Day 25 Spy Vs. Spy
With the Empire of Man leader Erik Mai successfully terminated, Master spy M'sislik and the Hero Assassin Illith remained embedded in the human enclave to further gather intelligence and wreak havoc.
M'sislik delivered two reports: first a map of the area: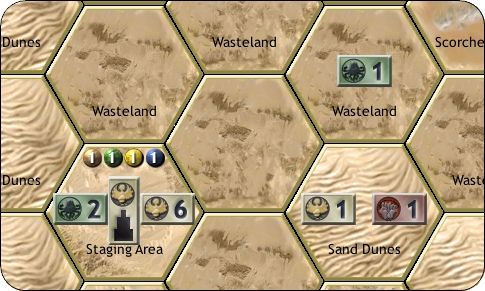 The capital now contained six Empire armies, which was ominous indeed. To the immediate east, an Empire recon unit had bumped into a recon unit of the human splinter group, the Free Mutants, with a Xenopod recon unit observing quietly from the wasteland to the north. Whether the three gathered later over a beer to swap recon stories is unclear.
Secondly, M'sislik delivered to the Hiveship an astounding intelligence report: the six armies of the Empire of Man situated in the capital were armies in name only. Some were unstaffed, others barely so, and no heroes were to be found. Clearly the assassination of Erik Mai has created a vacuum in human leadership: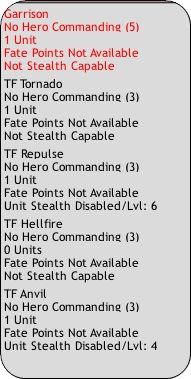 Back at the hiveship, Xenopod intelligence leaders broke out the champagne. If the report was accurate, only four companies of humans were in the capital -- a
nd they were deployed separately.
Therefore any attack by the Xenopod fighting unit, "The People's Liberation Army of France," would yield four separate battles, not one huge firefight, and thus was more easily winnable. "Stupid, stupid humans!" they shouted in glee.
The revelry was quickly tempered by sobering news: M'sislik, the master scout, had been caught.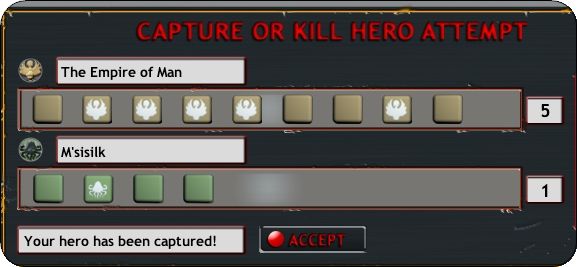 The Cyaeg Queen was saddened; M'sislik had been a favorite. But she was relieved at least that Xenopods tended to be resistant to traditional forms of human torture; in fact they rather enjoyed techniques like water boarding.
And so, an attack on the Empire of Man HQ became even more imperative: rescue their hero scout. But the Queen's military advisers decided to wait one more day for the resources to further improve the army.
First, she summoned to the Hiveship the master scientist and technologist Tsathogg, who was capable of creating a wide array of new weaponry: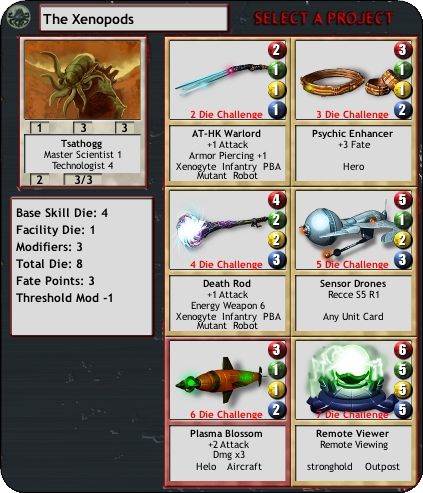 Tsathogg overnight was able to fashion a wonderfully-named rifle, the Death Rod: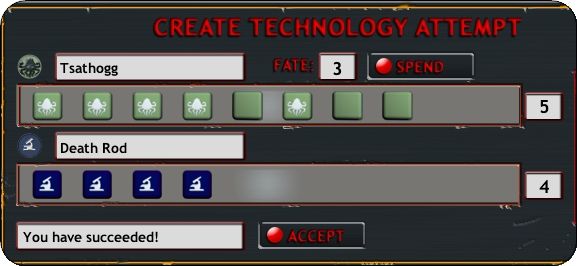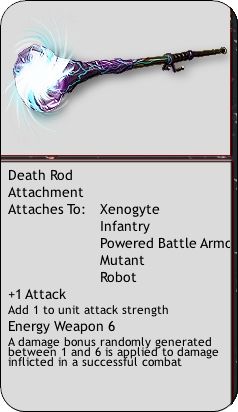 The Death Rod was assigned to the moderately-powered Gluttons. In addition, another larva was hatched at the outpost, and from that egg sprang another magnificent fighting unit, the Horror: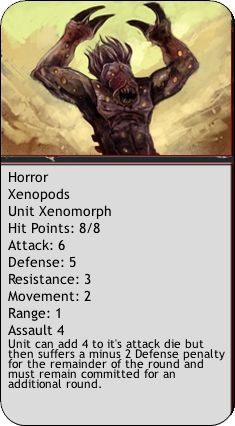 So as dawn arrived on the 26th day of righteous Xenopod campaign, the People's Liberation Army had added a Death Rod and a Horror, and was ready to stage an incursion on the headquarters of the vile humans.